The Karkat shirt I made for peachytea. God dam I hate this shirt. It looks so baaaadddd. Don't ever buy the paint i bought. Stupid sparkles. Wait… It's not my shirt. lol. No worries.
OH MY GOD YOU GUYS I MADE AN UPDATED TUTORIAL FOR FREEZER PAPER, A MUCH EASIER AND FASTER WAY OF DOING IT.
RIGHT »HERE«»HERE«»HERE«»HERE«»HERE«»HERE«»HERE«»HERE«»HERE«»HERE«»HERE«»HERE«»HERE«»HERE«»HERE«»HERE«»HERE«»HERE«»HERE«»HERE«»HERE«»HERE«»HERE«»HERE«»HERE«»HERE«»HERE«»HERE«»HERE«
THE TUTORIAL:  first get the pattern for the shirt. I got mine off of google. Just searched 'cancer horoscope' or something. Find it, resize it, and print it out.
NEXT. Cut it out and try to center it in the shirt.
*****IMPORTANT*** keep the white center piece. You WILL need it!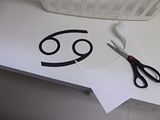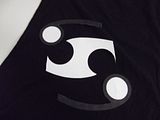 I folded the shirt in half and then folded the paper in half so there was a line i could line it up with.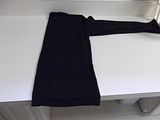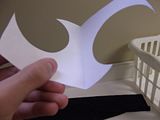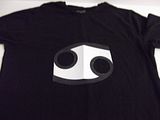 THEN. Tape the obvious areas where paint will not go with masking tape. You know. Like the beige tape?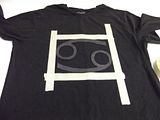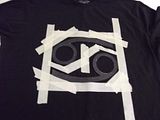 When you're done with that we go for the curves greaattt.
TO get the curves (for the cancer) what i did was i put tape over a curve, and try to get the most curve possible. (That makes sense…) Then cut the tape and place it on the shirt. ( i recommend putting the pattern down first. then lining the cut tape with the rest of the tape on the pattern to get the best…cancer. lol)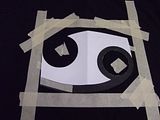 *use the white center piece for a guide to where to put the symbol*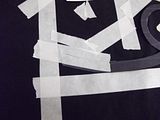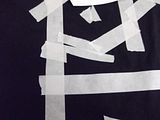 Continue with that for the whole shape until the shirt has a big black cancer symbol in the center.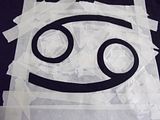 This acts as a template thingy so the paint only goes in the cancer. An optional step would be to cover more space with the tape.
****Make sure to have a cardboard piece under the shirt*******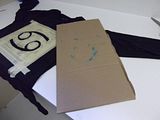 NOW for the paint…Now that you have the outline ready, just paint over it. Be careful not to drip it on the rest of the shirt. CAUTION! Do NOT use water-based paint. It just sinks through the shirt. I actually used 'slick' fabric paint and mixed it with the water based. I got a good color but when it dries, it cracks a little when you wear it. I didn't know what to do with the water-based so i just mixed it in with the 'slick' paint.
FOR faster drying time, use a hair dryer. What I did was I put it really close to the paint. Try not to get it too hot er whatever…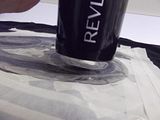 TRY to put at least 3 coats of paint on because when I painted it, it was still a little faded… I ended up putting around 4 coats.
WHEN you are done… well you're done. Hooray I hope my wording was understandable.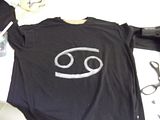 **This process works for pretty much any symbol.
Est. Time: ~1 hour w/Hair dryer
~long time w/out hair dryer